Profile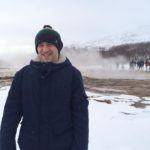 Greg Heikel
Curriculum Vitae
Education

I went to primary school and secondary school near where I grew up in St Albans (a town near London). After this I moved to Sheffield for university where I studied Molecular Biology. Molecular biology is the science of how the tiny molecules in our bodies like DNA and proteins work together to help us do all of the things we need to do to live. When I finished my degree I moved to Edinburgh to study for a PhD in molecular biology. Here I did research about how the body defends itself against viruses, in particular the virus that causes flu!

Qualifications

GCSEs: 12 including maths and English, all of the sciences, two languages, economics and food technology (and a few more). A levels: Maths, Biology, Chemistry. Degree: Molecular Biology. PhD: Molecular Biology.

Work History

I started doing a paper round when I was 13, followed by working as a sales assisstant in WH Smith from when I was 16 until I went to University. As part of my degree I worked for a year for a company researching new medicines, helping to make things that were used to do experiments as part of that research.

Current Job

I am a trainee clinical scientist at the City Hospital in Nottingham. I will train for three years before qualifying and working as a clinical scientist in the NHS.
Favourite thing to do in my job: Looking at the results of blood tests to figure out what is making someone ill and how they can be helped.

About Me: I'm Greg and I work as a scientist for the NHS in Nottingham!

Read more

I currently live in Nottingham with my girlfriend although I have lived in a lot of different places including Sheffield and Edinburgh. I spend most of my time when I'm not working playing video games and board games and I also love to play and watch football.

My Work: I help to figure out what is making people feel ill by looking at the results of blood tests.

Read more

Most of the tests we do in the lab are done by automation – pretty much huge robotic scientists! A lot of our time is spent making sure the robots are working properly so that we can be sure that we are giving patients the right results. As well as this there are several tests that we need to do by hand. These include testing to see if someone has malaria or glandular fever. We also look at people's blood under a microscope to see if the cells in their blood are healthy.

Another part of my job is looking at the results of the blood tests to try and help figure out what is making someone ill. We have tests to see if someone has a problem with their liver, kidney or heart as well as many other organs. We can also try to tell if someone has an infection – sometimes this involves testing the person's wee!

The final part of my job is to help introduce exciting new tests that will help us to tell what is making someone ill even faster than we can now so that the doctors can get to work making the person better!

Pictures to follow.

My Typical Day: I leave early in the morning to go to the lab at the hospital where I work. When I am at the lab I help to make sure that all the tests are working properly so we can be sure that we give doctors the right information to try and help sick people. I also look at the tests to see if I can help work out what might be making someone sick.

What I'd do with the prize money: I plan to set up an event where some school kids who are interested in science or medicine can come in to the lab at the hospital to be shown how things work and do activities to help them understand the kind of things that are done here.

Read more

From conversations with friends and family members, many of which are scientists, I have found that people do not know much about the science that goes on behind the scenes at a hospital. I hadn't even heard of the job I do now until I started searching for jobs after I finished my PhD! Because of this I would like to introduce people to my work and what we do in our lab, particularly young people who are thinking of a career as a scientist in the future.

To do this I plan to run a session with local school children where they can come and have a tour of the lab including a chance to talk with some of our scientists followed by some activities that show the kinds of things that hospital scientists do. The activities are still to be decided (and will depend on health and safety!) but might include looking at blood down a microscope, detective-style games based on our work or working in groups to come up with ideas about what makes a good test.

My Interview

How would you describe yourself in 3 words?

Curious, light-hearted, fun

What or who inspired you to follow your career?

The book "Bad Science" by Ben Goldacre. It's a great book that really helped me better understand how science and research work.

What was your favourite subject at school?

Maths

What did you want to be after you left school?

I wanted to be a scientist, although maybe not the kind of scientist I am now.

Were you ever in trouble at school?

From time to time, mainly for talking back to my teachers!

If you weren't doing this job, what would you choose instead?

I would love to do something creative like writing or making art

Who is your favourite singer or band?

Elton John

What's your favourite food?

Pizza (with pepperoni and jalapenos)

What is the most fun thing you've done?

I went travelling around Asia

If you had 3 wishes for yourself what would they be? - be honest!

Win the lottery. Become amazing at football. Get a dog.

Tell us a joke.

I was reading a book about helium once. I couldn't put it down!
---
---
---