Profile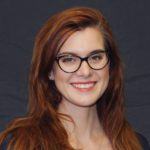 Anna Stec
Favourite thing to do in my job: Learning about and trying out new testing devices to see how healthcare professionals can use them to diagnose your infections better.

About Me: I'm Anna, I'm a clinical engineer working with medical equipment. I'm full of scientific facts. I care about environment and animals. I want to use my scientific knowledge to make the World a better place!

Read more

I live in Lincoln with my boyfriend, his two sons and a black cat called Winston. Our house is full of plants and souvenirs from our travels around the world.

I was born in Poland and I lived there most of my life. I studied there biomedical engineering and got to do a student exchange in Greece for a year. Later I came to England to do my Master's degree and I liked it so much here that I stayed to live here.

I can speak fluent Polish and English, I can speak a little bit of German and would like to learn to speak Cantonese. I am vegan – I don't eat meat or dairy but I love spicy food. My favourite day is Saturday when we cook a hot-pot together, it's delicious and a lot of fun.

Traveling is my biggest passion, I have been to 26 countries so far. I skydived for my 29 birthday and bungee jumped for my birthday last year.

My Work: I use my knowledge about medical devices to help pharmacists choose the right testing device, so that they can check if a patient has bacterial infection and needs antibiotics or not.

Read more

I have been working in a hospital in Lincoln in Clinical Engineering department where I help doctors, nurses and other healthcare scientists to choose the best medical equipment (such as: anaesthetic machine, patient monitor, X-ray machine, etc.)  for their patients. I get to try out really cool devices and work with the surgeons in the operating rooms and talk to patients in the clinics.

At the moment I also work and live part-time in London where I am working on an exciting project that is looking at different ways pharmacists in community pharmacies can help us fight with microbials (bacteria, viruses and other microorganisms).

My Typical Day: No two days at work are the same for me. Sometimes I work in the hospital in Lincoln, sometimes in the office in London, and sometimes I work from home on my computer. I wake up at 7am, take a quick shower and have an avocado and tomato toast for breakfast and a coffee with oat milk. I start my workday at 9am and finish at 5pm. I often go to yoga class after work.

Read more

I start my work day at 9am from going to meetings, making phone calls or sending out emails. I read and learn a lot about medical devices, diseases and medical procedures. I write evaluation documents where I compare devices and choose the best one to buy. When I come to my office in London sometimes I have to discuss my project with the team, sometimes I have to go and present my project at some other meetings and ask different medical professionals for their advise. I'm often on a train traveling to conferences and events to learn about medical technology, antibiotic resistance and inspiring projects that others in the NHS do.

My Interview

How would you describe yourself in 3 words?

adventurus, creative, caring

What or who inspired you to follow your career?

As a child I was fascinated by the series of cartoon books called "Secrets of human body".

What was your favourite subject at school?

Biology

What did you want to be after you left school?

First I wanted to be a doctor, then a medical materials engineer, and in the end a scientist.

Were you ever in trouble at school?

No, not really.

If you weren't doing this job, what would you choose instead?

Travel journalist or an environmental scientist

Who is your favourite singer or band?

There are many... Red Hot Chilli Pepers, Florence +the Machine, Rolling Stones, Rihanna, Justin Timberlake

What's your favourite food?

Ramen / noodle soup

What is the most fun thing you've done?

A helicopter ride over the Grnad Canyon and skydiving in Spain with my best friend.

If you had 3 wishes for yourself what would they be? - be honest!

Win a lottery, make my family wishes come true, for all the people in the world to go vegan

Tell us a joke.

What do you call a magic labrador? A Labracadabrador.
---
---
---